posted:
Dec 19, 2017
---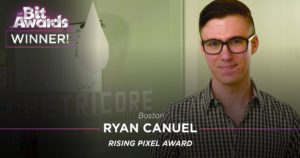 Ryan Canuel, a Becker College alumnus and founder and CEO of Worcester startup Petricore Games, has received the 2017 Rising Pixel Award.
The award, given out at the annual Bit Awards in New York City last week, is given to a rising developer who is making an impact on the community. This year, Canuel was given the award, and his firm's mobile-based game, Battery Boy, was nominated for Mobile Game of the Year.
In a press release from Becker College, the college highlights four other Becker College alumni working for Petricore Games: Christina Andriano '15, Oliver Awat '15, Chris Bruno '15 and James Spavold '15.
The Worcester Regional Chamber of Commerce last year named Canuel the Entrepreneur of the Year. In 2015, Petricore Games earned a spot in Startup Worcester inaugural cohort and a place in the MassDiGI Game Challenge finals.
Read Full Article: http://www.wbjournal.com/article/20171219/NEWS01/171219952