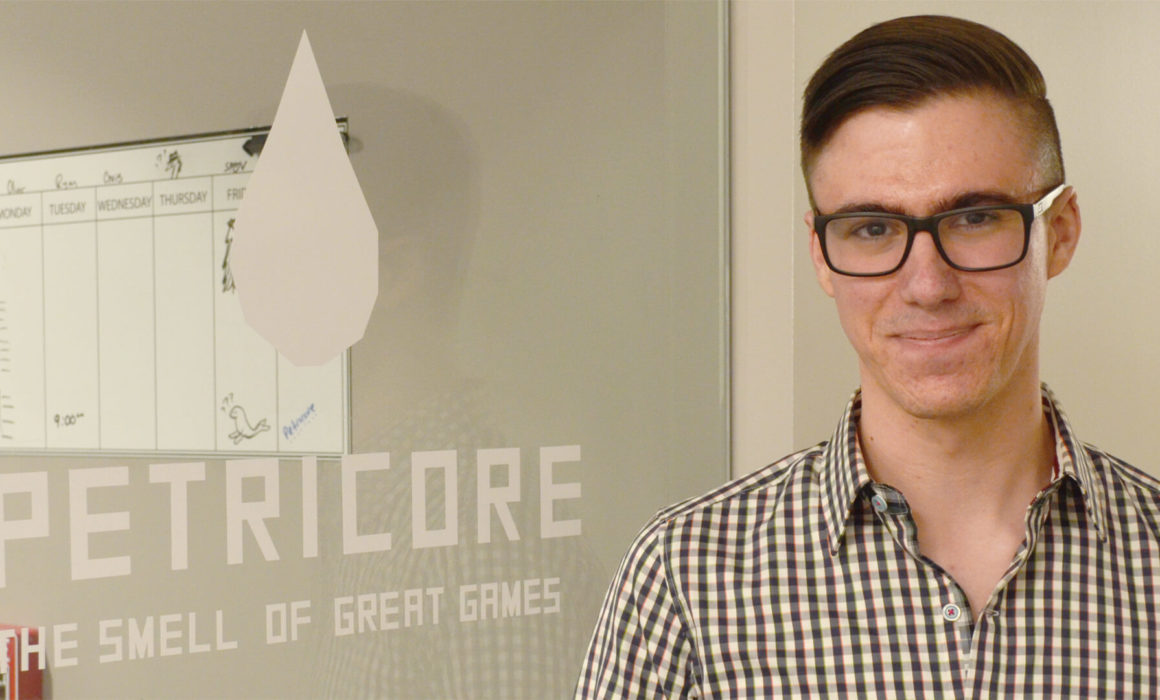 Moving down the road to Becker College, some recent grads are also making their mark in the entrepreneurial world.
Canuel, who graduated last year from Becker College, has become a major player in the entrepreneurial field with his game development company, Petricore. Focusing on making its own mobile games for iOS and Android, Petricore has make a significant mark on the mobile gaming world.
The company's first game, "Mind the Arrow," which was released in July 2015 and featured on the App Store, has piled up over 200,000 downloads across the App Store and Google Play.
Its second game, "Gelato Flicker" isn't far behind, with a front-page Apple feature as well as 175,000 downloads. Along with developing their own games, Canuel and his team of Becker grads also do work for hire for clients as a way to increase revenue. When Petricore first started last May, the company initially focused on that, performing virtual reality work for marketing firms. More recently, Petricore has been doing museum installations, such as touch screen kiosks in more than three locations.
"We love doing contract work for clients, and we always give it our all when we work on them," Canuel said. "We don't want to give anyone anything that is poor quality, but our big focus is doing games ourselves. At a certain point, we want to be able to make the switch where we're just doing games full time, and where we don't have to do the work for hire anymore."
As for how they make money on the apps they create, the past two have had ingame ads, which you can pay to make them go away. For the company's next game, "Traveling Merchant," Canuel wants to introduce in-app purchases, instead.
"We believe that there is this happy medium between in app purchases that basically wall you off at a certain point," he said. "If you look at certain games, you get to a point where it takes four days for something to happen, and you ask yourself, 'Do I really want to wait four days?' or 'I'll give you $5, and then the next period of waiting is six days. It's just that endless cycle. We're going to put in-app purchases in, but we want someone to want to spend money, not for someone to spend money."
Becker also plays a significant part in supporting the business, from the beginning to where Petricore is now. From providing a classroom to develop its first game, to subsidizing the office the staff works in now.
Unlike most, Canuel benefited from starting his business while still in school.
"Doing it from school is the best time, because once you find that job, you have that level of comfort already," he said.
In his case, he was right. By having his whole team made up of Becker graduates, Canuel already had years of work with his staff. They went from classmates to co-workers.
"If you do it from school, you don't know anything else, and you can screw up and you're not ruining your whole life," he said. "Most people don't have a family right out of college. None of us here have kids. We don't have a house mortgage, so it's less terrifying for us to start a company."
Canuel started Petricore with his friends with only two months left in school. For most, it may sound like a last-ditch effort for success, where 9 out of 10 people might fail. But that didn't stop Canuel.
"There's a level of planning that needs to go into starting a company, but there's also an enormous amount of overthinking,: he said. "Starting a company is an insane thing to do. There's a level of craziness that you have to have to be willing to do it, and the more you think about it the more you might realize that it might not be a good idea. There's a level of preparation that needs to go into it, but there's also a leap of faith that you have to take."
And leap he did, not unlike Turgeon at Clark. Theirs is an entrepreneurial spirit that seems to fit quite nicely with the familiar Worcester business motto of "recruit, retain, incubate."
Clark University and Becker College are just two of the area colleges helping students bring those words to life.
Full link to article:
http://worcestermag.com/2016/05/12/worcester-colleges-feeding-entrepreneurial-appetite/42696